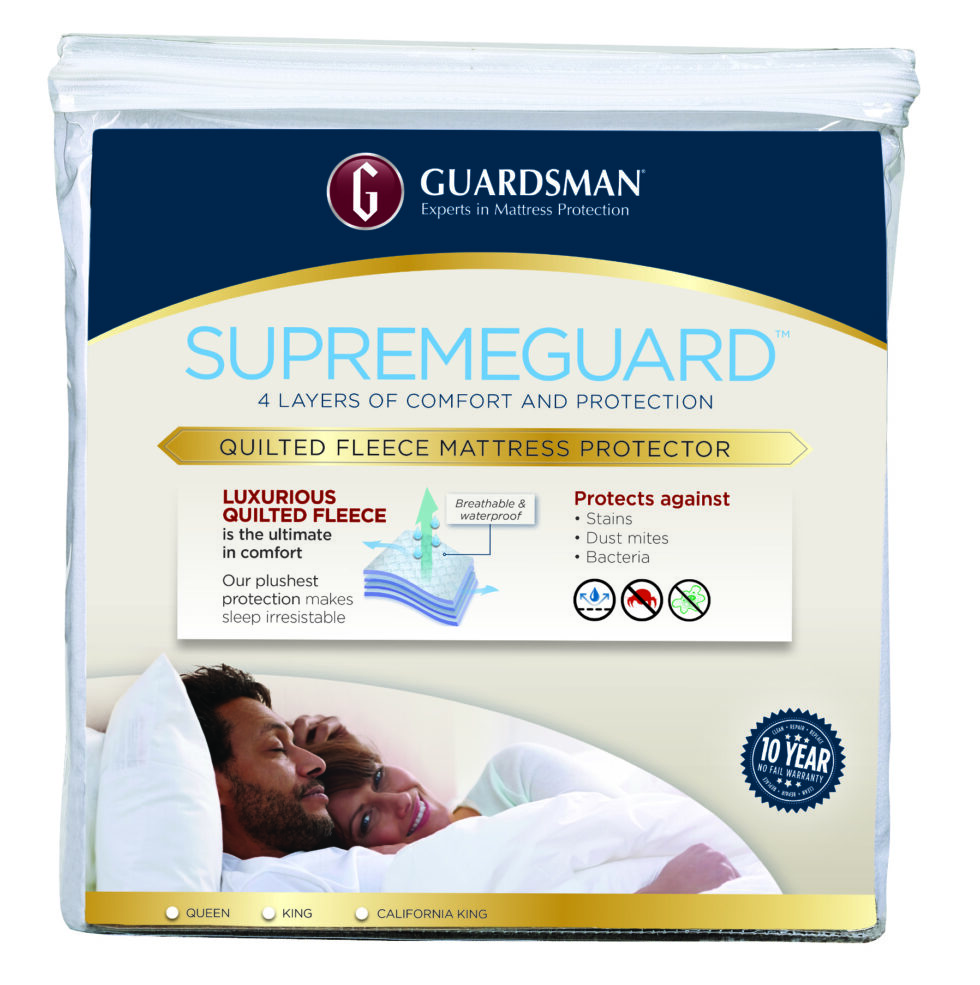 SUPREMEGUARD™ Mattress Protector
Soft, sumptuous comfort from our most luxurious sleep product mattress fresh and clean.
Product Description
Luxurious, soft quilted fleece gently envelops you in warmth
Soft, smooth knit keeps you cool and dry
Reversible temperature and moisture control fabrics for maximum comfort
Breathable, waterproof barrier keeps your mattress fresh and clean for a healthier sleep experience
4 layers of comfort and protection
Breathable, waterproof barrier keeps your mattress fresh and clean
Machine washable/tumble dry
HealthGuard technology
100% latex-free
The Guardsman SUPREMEGUARD™ Mattress Protector is designed with 4 layers of comfort and protection to help you get a luxurious night's sleep. This reversible, two-sided mattress protector offers a luxurious, soft quilted fleece on one side that envelops you in warmth and a soft, smooth knit fabric on the other when a cooler sleep is desired.
Both sleeping surfaces are made of engineered wicking materials designed to draw moisture away from the body, providing you with an exceptionally comfortable sleep experience.
SUPREMEGUARD™ includes an extra layer of comfort with a rich, plush fill for a softer night's sleep. You'll have no worries about getting too hot; this layer is also made from materials designed to keep you at a comfortable temperature.
Like all Guardsman Protection products, SUPREMEGUARD™ offers a breathable, waterproof shield layer that protects your mattress from moisture that can cause mold, mildew, fungus and bacteria to grow inside your mattress. It also protects your mattress against stains, spills and other mishaps, keeping your mattress fresher than conventional mattress pads.
Classified in the U.S. and Canada as a Class 1 medical device, doctors recommend the use of mattress protectors to control asthma, dust and pet allergies
Fits almost every mattress (memory foam, latex, inner spring, even futons) including deep and pillow-top mattresses
10-year warranty
Guardsman also recommends Guardsman Pillow Protectors to provide the same allergy relief for your pillows